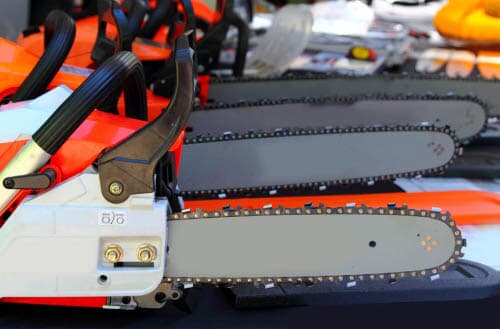 If you've ever wondered where the chainsaws we use every day come from, this is the article for you. We've written before about Husqvarna chainsaws and their origins, and now find out a little more about other brands.
Where are Echo chainsaws made?


Let's start with Echo chainsaws. They are mostly made in the United States today, but also include parts from abroad. Production facilities are also located in Japan, specifically Yokosuka and Morioka, and in China. The brand was founded in 1947 under the name Kyoritsu. In 1978, they changed their name to Echo, and the first chainsaw was produced in 1963.


Where are Stihl chainsaws made?


Stihl is a company operating in the United States and China. Specifically, the company's facilities are located in Virginia and Qingdao. This brand is extremely powerful and appreciated in the market. Each of their products goes through a special STIHL control that guarantees quality and high standards. Since 1971, Stihl has been the best-selling brand of chainsaws in the world.


Where are Poulan chainsaws made?


The Poulan chainsaw is part of the Husqvarna group. There is no more precise information on the production of these chainsaws, but it can be assumed that they are in the same locations as Husqvarna chainsaws, which means Sweden, the United States, China, Germany, France, and Brazil.


Where are Remington chainsaws made?


Remington has been manufacturing power tools since 1921, and in 1990 they launched their first electric chainsaw. Today, the company is located within MTD Products in Ohio, United States. In addition, they have their plants in Mexico, China, and Europe, so some parts of the chainsaw can be from these areas.


Where are Jonsered chainsaws made?


Just like Poulan, Jonsered is also part of the Husqvarna group. There is no specific information about the place of production of these chainsaws, so as in the previous case, we assume that it's: Sweden, the United States, Germany, China, Brazil, and France.


Where are Makita chainsaws made?


Makita was founded in 1915 as a company to repair and sells electric motors. The company is headquartered in Anjō, Japan. In addition to Japan, factories can be found in Brazil, Mexico, Romania, the United Kingdom, Rwanda, China, Germany, and the United States.


Where are Dolmar chainsaws made?


The Dolmar brand was bought by the previously mentioned Makita in 1991. The Dolmar factory still exists in Hamburg, Germany, but the chainsaw parts come from various Makita plants. That means Japan, China, Mexico, the United States, Rwanda, Brazil, Romania, and Dubai.


Where are Tanaka chainsaws made?


Tanaka began operations in 1918 in Japan. However, today the company is owned by Hitachi located in China. Due to that, most of the components of Tanaka chainsaws are made in China.


Where are McCulloch chainsaws made?


McCulloch was a company originally established in Milwaukee, but today is part of the Husqvarna Group. We do not have precise information on the places of production of these chainsaws, but it can be assumed that they are from Sweden, the United States, France, China, Germany, and Brazil.


Where are Parker chainsaws made?


Parker is a family-owned chainsaw company located in the UK, specifically Lincolnshire. All parts of these tools are produced there.
Conclusion
In this article, we have singled out 10 world-famous chainsaw brands. The origin of the product plays an important role in the purchase for most customers, so this is very important and useful information. Good luck with your purchase!