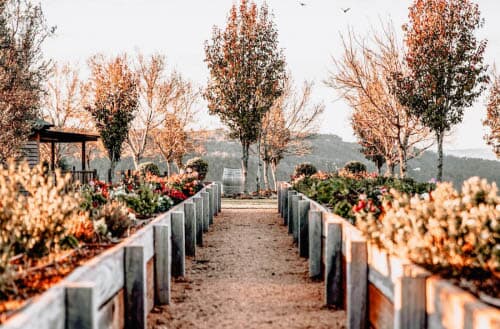 If you never plant a garden before, you are probably insecure about how and when to plant your plants. Many people think that the growing season doesn't start until April or May but that's not true, in fact, it's preferable to start planting semen much earlier.

Of course, depending on which plants you want to plant, some of them will grow properly only at a certain time of the year. Spring and early summer are times to enjoy your garden but also with plenty of work to do. However, the best time to plant is actually the end of summer, fall, or even early winter. That's the time when the soil is still warm at some point, days are shorter, the sun is cooler and plants have some time to settle down before waking up in the spring. In this article, we will show you how to plan your planting from month to month.
Watering and planting in plastic pots
Perennials, grasses, shrubs, and some smaller trees can be planted in plastic pots throughout the year except when the soil is frozen. The only problem you may face during planting in spring or summer is that you need to water much more for the right development of plants. Newly-planted plants won't have issues with diseases and pests in the early stages, the biggest problem actually will be watering and lack of water. So before any work think about tap and hose to be close around. Will you be going away for a prolonged spell and can someone water your plants during that time? Those are very important things.
January and February
January is ideal for preparing so you can create a map of plants you would like to plant throughout the year. Remember that crops need to be rotated every year and by recording everything you will have a better overview. Take a look at catalogs and make an order early, because wanted varieties can be sold out very quickly.
If you are new to this ask for vegetables that are easy to grow and start with smaller amounts. Later, with some credence and experience, you will be able to plant anything you like.

February is a month where we are still at some preparations because for most vegetables it's still too early to be planted. You should finish your semen orders in this period and make sure you have all the necessary tools such as a shovel, a yard spade, a fork, and a scuffle hoe. Outside if the soil is workable you can plant shorn-root yearlong vegetables like asparagus, artichoke, or horseradish. Inside you can start semen for vegetables like spinach, onions, or broccoli.
March and April
March can be an unpredictable month when it comes to weather so prepare row covers for possible frosts or freezes that can do a lot of damage to your plants. this is also time for testing your soil. Most plants prefer a little acidic ground (6.0 to 6.8 pH), so get yourself a ph test kit to make sure your soil is at the right span. Inside you can start warm-season seed corn such as tomatoes, squash, or eggplant. At the end of a month, it's recommended to plant peas.

When it comes to April, the weather still may vary, so keep covers still around. Besides that, this is a month for a full swing. It's time for radishes, spinach, onions, lettuce, and beets. If you don't have your own, buy replants and seedlings of these vegetables. Be sure to water enough at the planting time, especially newly transplanted seedlings. Don't let weeds to spread around.
May and June
In May you should check soil temperature from time to time and make sure it's above 70ºF so you can plant heat-loving seed corn such as tomatoes. You should continue or start planting early-season seed corn like potatoes, melons, sweet corn, peppers, or eggplant. If you will go for sow straightly in the garden, you should start with carrots and beets. Also, watch on insect harm on leaves and react on time if you notice something. Plants like peas and spring greens are ready for reaping in this period.

It's June and now it's time to focus mostly on preservation and harvest. In the first few days of June finish getting any warm-season vegetables in the soil. A month after planting you should add organic compost, still, keep your eye on weeds. Harvest during a cooler period, morning or evening because plants are the slightest stressed. You can pick beans, herbs, and greens.
July and August
At this point, expand the season with the late reaping of cauliflower, carrots, and cucumbers. Always water early in the morning to reduce vaporization. Also, try to water the ground, not leaves to prevent possible fungal diseases. In July you can harvest daily.

August is a month where you can take a deserved break, as well as your garden. You can make some notes about good moves and failures, and make a summary of the work done so far. You can plant the harvest if you didn't earlier. Still control humidity, insects, and possible diseases and keep harvest.
September and October
In September the weather is less predictable so be ready to protect plants like tomatoes from nip with some sheets. As the weather gets cooler, this is a perfect time to dig and make ready new beds for spring next year. You can carry on planting cool-season plants for winter harvest. Some plants will keep pr even through frosts, and some of them will need covers. Green tomatoes, for example, can be picked up and wrapped in newspapers to ripen.

In October you can still plant cool-season seed corn such as spinach, sprouts, peas, broccoli, onions, or parsnips. You need to keep safe new seedlings and winter crops with covers. Al garden supplies keep in a dry place. You also can excavate potatoes and store them in a dark place and keep reaping autumn crops.
November and December
In November will be hard to do anything due to the weather, but if you can do it to make your job easier in spring. Depending on how much rain there was, continue to water cool-season vegetables and harvest vegetables that are producing. The same goes for December. Keep harvesting and watering if needed.
Final thoughts
To sum up, having your own garden and your own vegetables on the table is priceless. With good organization and will anything is possible. Always plan your next step and take notes. Also, an hour of planting will burn from 200 to 400 calories and can be a very effective form of exercise so why not give it a try?