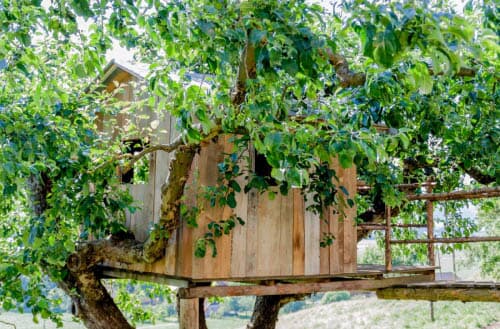 It is possible to build a treehouse without hurting the tree. Tree attachment bolts and other special construction techniques and methods are used to ensure the tree is not hurt during the building process.
Treehouses are first becoming popular. There are various types of treehouse designs. This includes a treehouse on a trunk, a stilt, a forest floor, suspended from branches, and many other imaginative designs. But before you decide to build a treehouse, you have to consider if you have the best tree for a treehouse, and whether it is safe to build one. So how do you build a treehouse without hurting the tree? This article will answer this question and highlight some of the safest ways to build a treehouse.


Is Building a Treehouse Good for Your Tree?
While traditionally, a treehouse was mainly built as an escape for kids, there are so many treehouse designs nowadays. Even hotels and resorts have incorporated the idea of a treehouse as part of their room designs. When well designed and build, a treehouse provides great ambiance and is a beautiful addition to the surrounding area.
However, building a treehouse will naturally cause strain to your tree. Trees are not designed to hold a structure or have a structure build on them. This is not to say that it is not appropriate to build a treehouse on your tree. When a treehouse is built well, the tree will recover. Therefore, when building a treehouse, ensure that you get experts to do it for you safely, both for the tree and people using the treehouse. In general, a treehouse being build will not hurt your tree if all the safety measures are taken into place.


Tree Attachment Bolts
Tree attachment bolts can bear a weight of up to 13000 pounds. Therefore, they are the safest and most appropriate way to build a treehouse without hurting it. Tree attachment bolts are constructed for the stem as it allows direct penetration of the tree. The boss will be embedded into the tree. The perch acts as a small platform that the treehouse will sit on, and the tub point will allow external structures to have a fixing point. Installing the wrong kind of tree attachment bolt can damage the tree, ensuring that you install the right size.
A Garnier limb was the original tree attachment bolt. Michael Garnier, who created it, wanted it to provide safety, allow the tree room to grow, and not cause any disturbance to it.
The right equipment for installing tree attachment bolts include:
Appropriate Augur bits
An appropriately sized monkey wrench
A three-inch self-feeder bit
Torpedo level


Leave Gaps
When building a treehouse and you want to ensure that you do not hurt the tree, leave gaps so that the tree's growth is not restricted. The gaps should be left around any branches or trunk that goes into the treehouse. Avoid using wires, straps, and ropes to constrict a tree's branches as this strangles the tree.
Leaving spaces between the trees and beams also ensures that the tree will have sufficient movement. If the tree passes through the tree house's roof and floor, respectively, allow a 3 inch and 2-inch space for the tree.


Use the Correct Fasteners
When building a treehouse, the kind of fasteners you use will determine whether or not the tree will be hurt. Therefore, you should consider this when choosing the materials you will need to build your treehouse.
Treehouse fastener and floating brackets would be the most appropriate to use. They can be a bit costly, but the advantage is that they will not harm the tree and also allow it the space to grow. Floating brackets leave room for the tree to sway in the wind instead of confining it. Getting flexible support is appropriate if you will need to use more than one tree. Compared to regular bolts, they can hold more weight.
Avoid using a lot of fasteners when building a treehouse. The more bolts and screws you drill into a tree, the more you hurt the tree and cause damage to it. Therefore, employ a single large bolt, which will deliver the same results but with less damage to the tree. Screws and bolts include a lot of wounds and punctures to the tree, so avoid using them.
If you can avoid it, do not pin beams on top of a tree. Doing this restricts and limits the tree's growth. Instead, you could perch your treehouse above fasteners. Always try and make the necessary substitutions where you can to ensure that your trees undergo the minimal damage possible from having a treehouse build on them.
Lag bolts are the best ones to use compared to through bolts, which cause more harm to the tree. Generally, avoid using run bolts. This way, you can build your treehouse while still protecting your tree from harm.



Spread the Weight
When building a treehouse, you need to consider the weight distribution. This is for safety purposes for the people who will be up in the treehouse and ensure that you are not harming the tree. When you build a treehouse, and the weight is not distributed evenly, you can damage the tree. This is because all the weight and pressure will be distributed in one spot, which is not good for the tree's roots. All that pressure will cause a lot of strain on the roots, which is not good for the tree's overall wellbeing.


Trees are Alive
The most important thing to consider when building a treehouse on a tree is that trees are alive. Therefore, just like humans, they can be hurt. Think of the bark of the tree like you would the human skin. Therefore, if you have to drill anything through the tree, you have to employ safety measures. Ensure that you treat the tree to prevent foreign bodies from getting into the tree and causing further damage.
When coming up with a design for your treehouse, you need to consider that the tree will not remain static. So you need to allow room for it to grow, ensure that the treehouse will not restrict its growth. So as we mentioned earlier, you always have to leave room for growth and ensure that you do not cause any strain on the tree. Treating your tree like you would a living organism will help you build a treehouse without hurting your tree.
To sum it up, before building a treehouse, ensure that the design you are choosing and the method you will use will not hurt the tree. Make sure that you are working with a professional who will help you execute your design. Do more research on how to build a treehouse without hurting the tree. You can also look into what materials will be the best and safe for your tree.