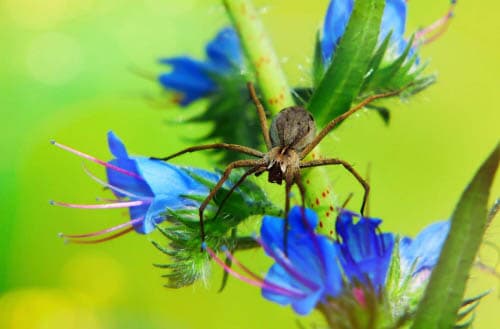 One of the worst feelings one can have is when you are doing something at your computer and in the corner of your eye, you see something scurrying along the desk or up the wall. No matter its size, the spider is perhaps one of the least favourite animals a person can see in their home. The eight-legged creatures may not actually be harmful in the large majority of cases and they are even good for the environment, but they still are not the most welcomed sight in anyone's home.
It is generally not recommended to kill spiders. Their usefulness vastly outweighs their cons, so be sure to, when possible, simply take them outside your home.
There are some natural remedies to the problem of spiders in your home. It is not common for there to be a real infestation as spiders themselves prefer the outside and will only stay inside if there is a lot of food to be had such as flies or mosquitoes. Therefore, if you keep your home clean and spider-food free, you should not expect too many of them.
To take it a step further, there are a lot of natural remedies for this problem. Spiders dislike certain odours and certain aromatic plants with thankfully pleasant smells have been found to repel spiders successfully.
This article will outline some of the plants that have been found to repel spiders, along with tips for caring about them.
Eucalyptus
One of the strongest smelling house plants, the eucalyptus is originally found in Australia as the favourite food of everyone's favourite slow animal – the koala. Nowadays, eucalyptus has found its way into many households in the form of toothpaste, oils, cough medicine etc. As a cherry on top, eucalyptus can serve as a great insect repellent. This goes so far that the United States registered eucalyptus oil as an insecticide and miticide.
So, just like you can use oil to repel a bunch of different insects, you can use the plant itself to repel spiders. As we said before, they just can't stand the smell.
Mint
Continuing on with the "I have seen this on my toothpaste" plants, mint is another example of a very aromatic plant which is known to keep the undesirable animal life away from your home. Placed strategically near windows or doors, mint in plant or dried form should do the trick. There is even some talk about mint repelling even larger animals such as mice, which talks about the potency of the plant.
There is one small caveat though – a lot of people think there is no drawback to this, and they would be wrong in that assumption. Mint spreads incredibly quickly and is, in fact, one of the most invasive common plants around. If you plant it in your garden, you can expect it to try a very, very hostile takeover. This may not be what you wish, so consider trying out mint-based oils first by spritzing them around the entrances to your house.
Basil
Usually a kitchen condiment, basil is also one of the plants that can be used as a spider repellent. It can be planted around the house freely, as unlike mint it is not as invasive. By watering it regularly and making sure it has a lot of sunlight, you can use basil for both the insect repelling properties as well as culinary needs.
Oh, and it is also possible to make your own insect repellent spray out of basil. That may do the trick as well, and you will not have to spend on commercial-grade repellents which are not as long-lasting as you would probably like.
Lavender
This one is perhaps the best-known insect repellent of all. For a long time companies such as Raid sold little bags filled with lavender to deter moths from your closets. Lavender's insect-repelling properties do not stop there, however. It is incredibly aromatic, as you can probably tell if you ever stepped near a field where lavender is grown. This is a big no-no for spiders, so keeping lavender close to your home may be the choice you need.
Lavender itself does not require a lot of care besides needing sun, and it has even been shown that it can help with a variety of different health concerns, such as fungal infections, hair loss or even anxiety disorders. Therefore, you may want to harvest your lavender for tea, and since almost everyone loves the smell, perhaps people will come to you and buy some for their houses. Not only will you keep your home spider-free, but you could make some sweet money on the side.
Chrysanthemums


These pink flowers are one of the best insect repellents, period. Their flowers produce a compound called "pyrethrin", which is found in many pesticides based on natural ingredients. It makes sense that the look of the flower coupled with its properties makes it an attractive option for those looking to spruce up the looks of their surroundings as well as keep the eight-legged occupants out of their house.
However, chrysanthemums also offer relative ease of growth both indoors and outdoors. Coupled with good drainage in your soil and sunny (but not overly so!) location, you will have them flowering in no time.
Marigolds


If you are concerned with spiders and other insects occupying your garden instead of your house, then marigolds may be the choice for you. They are great for repelling a lot of insects and are not too shabby to look at, since they are very colourful.
Their ease of growth is another benefit, as they require only sun and decent drainage with moderate watering during drier seasons and warmer weather.
They can also be kept potted, but we feel that would be a shame as they serve best in the dual role consisting of protecting the plants and showing off their beauty.
Onions


Continuing on the subject of keeping your garden as insect-free as possible, here comes a strange one – onions. Remember how, when you chop them, onions make you cry? Well, a similar process is at play when repelling spiders, but especially these small little annoying creatures known as spider mites. They simply can't stand the smell.
To add to this, onions are one of the most common and easily grown plants of them all – simply plant them during the spring and harvest during fall when you see the tops getting brown. They need sun and nitrogen-rich soil with good drainage. After you harvest them and cry your heart out chopping them, you will see how different home-grown onions are when compared to what you usually buy at the local supermarket. The lack of spiders is an added bonus.
Rosemary


One of the most versatile plants, rosemary can be grown in a lot of different climates. Not only that, but rosemary plants require almost no care and can be grown in containers as well. This makes them basically perfect for spider repelling since you can simply put the container wherever you wish, as long as it is in the sunlight.
One additional caveat, though – cats are not a fan of rosemary, so it may be a problem if you are a cat person. If you are not a cat person, however, this may be a blessing as they will serve to keep the cats away as well. Works well if you have a bunch of tomcats who like encroaching on your property.
Conclusion
In this article, we have listed 8 different plants that are quite common in an ordinary household and whose spider-repellent properties you may have not even known about. Whether you need a repellent inside the house, outside the house or even in your garden, we are sure that you will find something you like while simultaneously fitting your needs and climate.
If you want something simple – then mint and eucalyptus are your choices, provided you take care of them and remain mindful of mint's invasive properties.
For a beautiful-smelling home and environment, lavender is by far the best choice. It has been used in insect repellents for a long time, so you know it works.
If you want something that is effective in insect-repelling while being beautiful at the same time, perhaps chrysanthemums or marigolds are your choice – a place with lots of sun and good drainage will be more than enough for them to show off their beauty while keeping the spiders in check at the same time.
If you prefer something that you can use in the kitchen – either rosemary or basil can be used for both purposes. Use them to repel spiders until you need a condiment when you can "borrow" a bit to spice up your meals.
Finally, the most common plant of them all, the onion, is known to repel both spiders and spider mites. It is also simply delicious, but you know that already.
Whichever of these plants you choose, we are sure they will be much better and nicer than using that can of bug spray every 10 minutes to kill a spider.