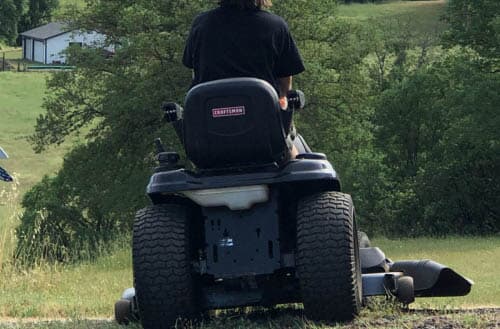 A lawn mower is a machine for cutting the grass on a lawn. It can also be called mower, or grass cutter. The first lawn mower is invented in England by Edward Budding in 1830 and the purpose was to mow sports fields and today they are used for almost all lawns in the household. Now we have so many types of lawn mowers but we can sort them into two main groups, depending on the size of the area to be mowed. A small one, pushed by a human (electric or gas) and ride-on mowers. Gas self-propelled mowers are used for mowing large lawns. If you have opted for a smaller mower, a distinction should be made between those that are battery-powered and those that are gas-powered, and if your choice is a large mower, these are mowing tractors. With the development of technology, a robot that can mow the lawn is now available on the market. Once you buy a lawn mower, with proper care it can last for 10 years but before buying you should know how big your lawn is. The easiest way to measure a lawn is to walk on it and count your steps. An acre is 43,560 square feet and for every lawn bigger than ¼ of acer, buy a riding mower. A larger budget will allow you to mow your lawn more comfortably, easily, and quickly. As this is a long-term investment, it is desirable to buy the highest quality mower. Some of the most famous and therefore the highest quality brands of lawn mowers are Honda, Cub Cadet, Toro, Bosh, Troy-Bilt, Ryobi, GreenWorks, Ego, and Husqvarna. We will suggest you some lawn mowers with the best price-quality ratio. These are some of the models you certainly won't go wrong with!
HONDA, HRX217K6VKA 21 Inch 4 in 1 Versamow System Gas Walk Behind Lawn Mower
It's gas self-propelled lawn mower made of the polymer composite. With this Honda mower, you will mow your lawn easy and you will be able to keep the lawn tidy with minimal effort. It ignites quickly so you can start mowing right away. Also, it has select drive controls so you can speed it up. 4 in 1 means you can bag, discharge, mulch, and shred leaves so you don't need any additional tools. It has such a powerful engine (190cc engine) that it can mow tall grass (max cutting height is 4 inches) as well as hilly land. The maximum cutting width is 21 inches. The bag has a large capacity which means it doesn't have to be emptied often. Another advantage is the five-year warranty!
TROY-BILT, 21 in. 140 cc Gas Walk Behind Push Mower with 3-in-1 Cutting TriAction Cutting System
It's also a mower that needs to be pushed but unlike previous mowers, this one is used on flat land and it's more affordable. This makes the main difference between these two mowers, as well as the price. The maximum cutting height of this lawn mower is 3.7 inches while the cutting width is 21 inches. Their similarity is that both of the above-mentioned mowers have a large bag so it's easy to clean up or even composting. Using a dual-lever the cutting height can be adjusted. Not to mention that the engine is powerful and also starts very easily. Here you have a two-year warranty!
GREENWORKS 19-Inch 40V Cordless Lawn Mower, 4.0 AH & 2.0 AH Batteries Included 25223
This is a slightly different model because unlike its predecessor, Greenworks mower runs on batteries (includes 2 batteries and a charger). Although it is a cheaper model, the design doesn't differ much from some more expensive mowers. It's intended to be used on small to medium-sized lawns and also it's great for mulching. This mower is made of plastic and consists of 8 inch rear wheels + 7-inch front wheels. The cutting width is 19 inches and the maximum cutting height is 3 inches. With this 3 in 1 mower, you can the following options: rear bagging, mulching, and side discharge capabilities. We are sure that this mower can offer you everything you need to tidy up your lawn. Here you have a four-year warranty!
BOSH, Rotak 32R Electric Rotary Lawn mower with 32 cm Cutting Width
The perfect electric lawn mower for a medium-sized yard because of 32 cm cutting width. With this mower, you can easily mow tall grass and since it weighs only 6.8 kg you can easily carry it from one place to another. You don't have to worry about damaging the edge of the lawn or the wall of the house if you get close. The bag is 31 liters in size, which means that it doesn't have to be emptied often. Although Bosch mowers are perhaps the best of all, there is a two-year warranty. Just in case!
TORO, Super Recycler 21 in. 160 cc Honda Engine Gas Personal Pace Walk Behind Self-Propelled Lawn Mower with FLEX Handle
There is no doubt that this is a great mower especially when we tell you that it has a Honda engine. The speed adjusts to your walking pace allowing for easy use without much fatigue, you will have no problem mowing larger or even sloping lawns. With this mower you can determine 4 different cutting heights: cutting width is 21 inch and the maximum cutting height is 4.25 inches. You get a 3 in 1 mower with which you can rear bagging collection, side discharge, or recycler mulching. It's made of rust-resistant aluminum and since it is foldable, you can easily store it anywhere in the yard. A five-year warranty will certainly help you in deciding to buy a Toro mower.
RYOBI, 21 in. 40-Volt Lithium-Ion Brushless Cordless Walk Behind Self-Propelled Mower with 7.5 Ah Battery/Charger Included
This mower runs on a battery with high capacity and all you have to do to launch it is to press a button. Ryobi mower is made of steel and with it is possible to achieve 7 different cutting heights which means that the grass in your yard will be exactly the height you imagined. 3 in 1 mower means that you can pick between bagging or mulching grass or using the side discharge. When you have finished mowing, simply empty the bag and fold the mower until the next use. Ryobi mower comes with a five-year warranty!
EGO, 21 in. 56-Volt Lithium-ion Cordless Walk Behind Self Propelled Mower Kit with 7.5Ah Battery and Charger Included
With this mower you can achieve 6 different grass cutting heights, all it takes is a push of a button, and mowing can begin. The cutting width is 21 inches and the maximum cutting height is 4 inches. The mower is battery-charged and the battery can last up to 60 minutes of mowing after charging. Once the mower is empty, you can refill it in an hour. If you decide to mow the lawn at dawn or even in the dark, there is no problem with this mower because it has LED lights. Need to mow under a bush? This is not a problem either because it is designed so that the nose of the mower is tilted and can be easily pulled into any bush. The ego mower is also collapsible which makes it easy to store. It comes with a five-year warranty and you even have a 3-year warranty on the battery.
HUSQVARNA automower 315X Robotic Lawn Mower
Husqvarna is a new, modern type of mower that is completely different from the ones mentioned so far. It's charged on batteries but there's no need for pushing or any physical effort because it's a robot that does all the work for you. Sounds great, right? You can start it by pressing a button or just give it a voice command to start it. After the purchase, it is necessary to install an application (more detailed information in the instructions) in which you can enter the mowing schedule. By the time you get back from work, your yard will be mowed. No more noise because this mower is extremely quiet, you won't even notice it working. It's great for small to medium yards and can mow as much as a quarter of an acre after a single charge. Whether it is sunny or rainy this mower can mow without any problems. Another advantage is that you will not need a bag with this type of mower. You determine the cutting height yourself and you can turn it on at night because it contains LED lights. The cutting width is 8.7 inches and the maximum cutting height is 2.4 inches. For home use, you get a two-year warranty!
HUSQVARNA 960430212 YTA22V46 22V Fast Continuously Variable Transmission Tractor Mower, 46"/Twin
Buying this type of mower is a serious and long-term investment, so you should carefully choose the model that would suit you the best. This isn't a classic mower or the aforementioned robot mower, this is a mower that can best be described as a small tractor. It's not pushed but driven and is intended for mowing large lawns with tall grass but that doesn't mean you can't use it for smaller areas. You use the pedals and steering wheel to control the speed as well as the direction of mowing. It doesn't need to be charged because it runs on gas cutting width is 46 inches and the maximum cutting height is 4 inches. It comes with a three-year warranty!
CUB CADET, 30 in. 382 cc Auto-Choke Engine Hydrostatic Drive Gas Rear Engine Riding Mower with Mulch Kit Included
Although it is a smaller 'tractor' for mowing, the power is approximately the same as some larger Cub Cadet models, but this one is more suitable for mowing smaller lawns and as it is smaller, it will not take up much storage space. It's designed to be very easy to enter and the seat will provide you with extra comfort. The LED light allows you to use this mower at any time of the day as well as in all weather conditions. This type of mower has one important difference compared to the others and that is with it you can even drive in reverse. The cutting width is 30 inches and the maximum cutting height is 4 inches. It has a three-year warranty!
Conclusion
Battery-powered mowers used to be considered the worst but now this isn't the case. Today, a battery-powered mower cuts grass almost as well as a gas mower. They are much easier to maintain and take up less space but their disadvantage is the limited battery life. Battery mowers don't require an oil change and are much quieter compared to other mowers. The battery in most of these mowers lasts for an hour and the mower needs to be charged before it can be used again and this takes time but for someone with a smaller yard this won't be a drawback.
Gas mowers don't have a limited time for mowing and it is possible to use them for a longer period of time, which means that they can be used for larger lawns. When buying this mower keep in mind that they require maintenance such as changing the oil and they are also noisier than battery-powered mowers. While battery-powered mowers are used for lower grass, these make it easy to mow thick and tall grass.
Lawn tractors are also gas-powered machines but they are incomparably faster compared to push mowers making them the best choice for large lawns, such as golf courses. Of course, they are more comfortable because you are in a sitting position, you feel like you are driving a smaller car and not mowing the grass, it means less effort for you but more effort for your wallet.
Before you go to buy a lawn mower, take these factors like lawn size into account to choose the best mower that suits your needs and by which your yard will look the way you want to!