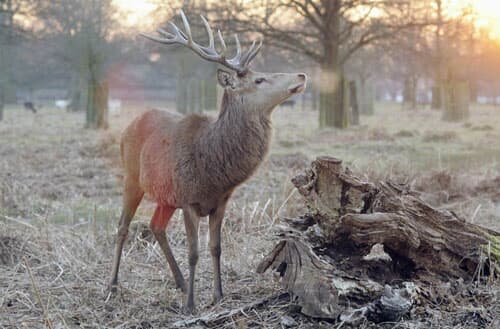 Today deer can be found in many different ecosystems, from wetlands, grasslands, rain forests to mountains, but also in our neighborhood and even our own backyard. No one likes intruders on our property, especially if they do harm. Deer is surely one of these uninvited guests with a habit of eating up our garden but also he can be dangerous to human beings and other animals, particularly dogs.


What to do if deer constantly shows up doing damage?
As the article title said, hunting comes first to mind in this kinda situation. But it's not that simple as it sounds. Your hunting adventure depends on your state and local hunting regulations. Landowners generally can hunt on their own property but they also must follow the regulations. It is recommended to get in touch with your state DNR or Department of Conservation before any action because they are in charge to keep the populations healthy and avoid people-wildlife conflicts if it's possible.

Some states will demand a hunting license as well. If you are allowed to do it, one of the most important things is that hunting must be during the appropriate deer season. You probably will be able to hunt at certain hours of the day, from near sunrise to near sunset. Maintain good neighborhood relations is important so don't disturb them. A large tract of land is another vital condition by many states, your hunting must take place an appropriate distance from the roadway. A safe location often means at least 500 feet from an occupied building. Things like shooting across a road are strictly forbidden.

It is very important to emphasize that hunting is allowed only on your land. Many landowners will post their land and let you know to stay away while hunting. In fact, posting your land is preferable so no one can hunt on your land except you. In most states baiting during hunting season is not allowed so don't forget to take away any deer bait like salt licks or bird feeders.


What about weapons?
Some states have designated season for weapons so we have: firearms, bow, handguns, rifles, and crossbow. Which weapon you can use also depends on your state. For example, rifles are allowed in Minnesota, while in Illinois they're forbidden. Another thing you probably should do is wear blaze orange while hunting to alert others of your presence.


How good is deer meat?
Actually, deer meat is very healthy with fewer calories and more protein than beef. The problem could be how to butcher it, many butchers will do it for you, but that's an additional cost in hunting or you can simply donate the carcass to some charitable organization.

To sum up everything, the question of hunting a deer in your backyard is not that simple. Many factors are included and as we said earlier, before taking any action the best is to consult your state DNR. Taking a hunter safety course is also recommended.