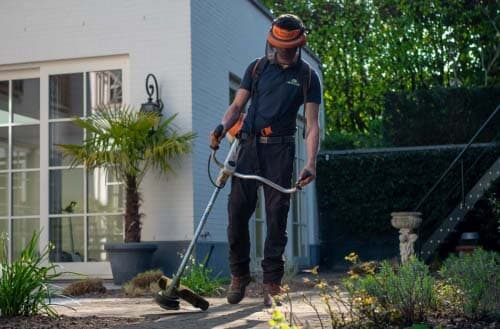 To maintain your backyard and garden properly you will need a good weed eater. It's a very powerful tool and can help you a lot, but if you meet with it for the first time, you'll have some questions and doubts. Also, there are several techniques of cutting and safety instructions about how to use a spinning trimmer. All of this and more you can find out in this article.
How to find a perfect trimmer
To learn more about weed eater techniques you must choose the right trimmer for you and your backyard. The type of the trimmer will determine how you should use him. Throughout history, weed eater has many names. This machine was invented in Texas in the 1970s and since then we know as weed whip, line trimmer, weed whacker, and string trimmer and that is only some of names.

You run them with gas, electric energy, or replaceable battery. In fact, gas types are stronger than other trimmers of their range, and think about that if you want a strong weed eater for the stubborn shrub in your yard. The shape of the machine also has a big impact on the final result. Curved shafts will give you better and more precise cuts, while straight ones are much easier to control and have a higher reach. So, our suggestion for you is if you have a smaller backyard and lawn go for an electric or battery weed eater because they are much easier to work with. A gas trimmer, on the other hand, is more suitable for a larger area. They need more maintenance and also have fuel costs.

Whatever your choice, make sure to buy one of the well-known brands.
How to use a gas trimmer
Before anything, you must check the gas tank and make sure that you use the right mixture as oil. The next step is to turn on the switch, it's actually a power controller. His position is not determined, but it's somewhere on the handle. Turn on the choke as well. It will help you for an easier start because you will start your weed eater at a smaller temperature than he usually works. Next, you need to do is to push the primer bulb a few times. This button also must be pushed if your trimmer hasn't worked for a long time. It's time to pull the cord and start your engine. When you hear that the motor is working, stop pulling and the engine will die down and you won't need to pull the cord anymore. You also can turn off the choke. Pull the rope again and keep doing that until the trimmer starts running.
How to use an electric trimmer
You just need to plug your trimmer and make sure you have a long extension cord that will allow you to reach every single corner of your backyard. If you have a trimmer on batteries, remember to charge it before work. All you have to do is just pull the trigger and your weed eater is ready!
Cutting techniques
Cutting with a weed eater is actually pretty simple, but still, you need to manage certain techniques. If your weed eater twirls clockwise, then you should trim your lawn from the right side so the dirt can end up on the other. On the other side, do reverse things.
Tapering
The first technique is tapering. This one will help you with grass around trees, walls, or fences. You must hold your weed eater at the smallest possible angle between strings and the grass. Never hold your trimmer parallel to the grass! Tapering is a great method for sharp and neat edges in your backyard.
Edging
The next one is edging and this implies edging around the tree or alongside the walkway. All you need to do is just hold your weed eater vertical to the grass. If the grass is too tall, make sure to remove all the rocks and unwanted items.
Scything
If there is any blockage in your backyard then this method will be useful for you. use U motion and combine it with the edging technique. It will result in a neat and nice lawn surface.
Screeding
The last one we will mention is screening and you can use it for weeds. It's very effective in removing the weed base. Always remember to keep your trimmer at the right angle so you can cut all the weeds properly.
Some safety tips
The first thing that comes to mind when we talk about protection is personal protective equipment. By that, we mean special work pants and shoes, protective glasses, caps, and of course, gloves. As we already mentioned, the trimmer is a powerful machine that can hurt you in many ways. It's important to have at least sunglasses to protect your eyes from flying debris. Long sleeves and pants are also must-haves for your work just like gloves for your hand protection.
Take good care of cables if you have an electric trimmer, you don't want to hit them during work, always keep the cable behind you.
Always take care of objects and people around you. Before you start make sure there are no rocks, glass, metal, or any other dangerous objects around. Keep the kids away, and cover the windows and cars to avoid any kind of damage. Also, gas-powered trimmers contain toxic and dangerous fumes, so although you are in an open space, try not to inhale too much of these fumes.

If you experience problems with your trimmer, be sure to check out our article where we explained the most common problems.