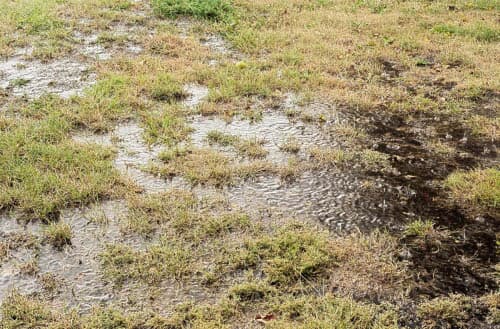 Water can cause big damage to your home, garden, or driveway. When you notice that the pipe has burst and the water is constantly leaking, of course, you will try to repair the faucet. But what if the water comes from the neighbor or if the source of the problem is a place you don't own so you can't access it?

Most often this will be the case if you live in a hilly area and your house is lower than the neighbor's so all his water drains into your yard. It can be very messy and you're surely wondering how to prevent it. Stop repairing the damage over and over again, instead of take some of these steps to prevent the damage from happening again.
Make a berm
A berm can be described as a small hill that you can make by yourself. It's necessary to plant plants (most often grass is planted for this purpose). The reason you could try this first is – with this small hill you can redirect the flow of water and thus protect the area where the water drains or the area where that water causes damage to you. First think carefully about where to build a small hill to protect your house, yard, or some other surface, and then choose the right plant. You can plant several types of plants so, in addition to the fact that a small hill will protect you, it can also look beautiful and act as if it belongs naturally to that landscape. A berm is surely one of the best options to solve your problem effectively and quickly.
There are a few rules you must follow to build berms properly, especially if you are a beginner in their construction:
1. Very carefully choose the place where you will build the berm. You don't want to divert water to the wrong place and create an even bigger problem.
2. Once you have chosen the right place to build a berm, you must also decide what shape it will be. We advise you to create a crescent shape because this form will drain water more efficiently than the shape of a circle.
3. Carefully arrange the berm layers. Line the edges of the berm with stones to make it stand stronger. This will help the berm to be longer-lasting even despite heavy rains.
4. The last step is the selection and planting of plants. The berm will be exposed to the sun most of the time, so it's necessary to choose plants that thrive in a dry area. In addition to the plant having to withstand drought, they also need to tolerate a lot of moisture on days when the water drains.
Try with grade board surfaces
This way of protection against water runoff is something more complicated to do than making a berm. You won't be able to do it by yourself unless you have your own excavator. Therefore, it's also more expensive than building a berm because you will need to rent an excavator. Except for the excavator, a lot of 'expensive' equipment will be needed as well. Yes, you will invest a lot of money to protect the house, terrace, basement, garden, and more but you are sure to have permanently solved the problem of draining the neighbor's water. This is a long-term solution to your problems.
Route the water into a dry well
Is there a dry well somewhere nearby? If not, you can make it where it suits you or where the water drains the most. When the water starts to flow downhill, with the help of a roof downspout or swale divert it to flow into the well. This is a very effective way of protection and won't cost you as much money as grade board surfaces would. A dry well can serve you for years and doesn't require frequent maintenance.
Make a ditch
Make a ditch with a slight slope on both sides. So the water coming from above will just keep coming down and you will no longer have a problem in your possession. You can also make a French drain that looks nicer and serves the same purpose, only its construction is a bit more demanding than building an ordinary ditch. You can do all the work by yourself or with the help of a friend and if you're not interested in digging, you always can rent a trenching tool but it will cost you extra, of course. Be sure to call the utility company before digging to get a mining permit as otherwise, you may damage the underground utilities.
Check who is the real culprit for the problem
If there was damage to your property that you know is not your fault, but it's caused by a flood that came from a neighbor, why would you pay for it? Check the regulations and if you have the right ask your neighbor to compensate you for the damage. Also, you can request that he take the needed measures to prevent further damage. Of course, before filing a lawsuit, you should try to talk to your neighbor and reach an agreement. If the neighbor, although guilty of the damage, doesn't agree to the agreement, then the only thing left for you is the legal protection of your property.
Conclusion
We know that water runoff frustrates every property owner, especially if it's not his fault. Now that we have explained to you some of the most effective forms of drainage protection, choose the one that best suits your landscape and budget. For less water drainage the construction of berms will be enough, for some more difficult cases perhaps the best option is a ditch or grade board surfaces. You can also plant plants around your yard that can absorb a lot of moisture, and that should help. Be sure to check who is responsible for the damage before any construction work.