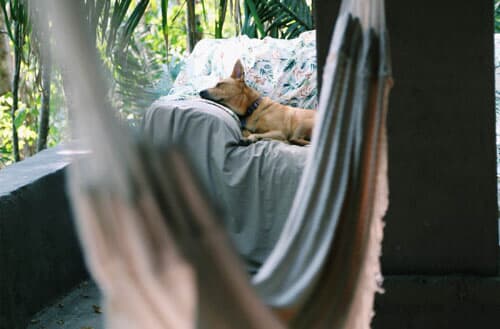 A hammock is a fantastic place for napping or reading books after a hard day at work. In our recent article, we talk about how good a hammock can actually be for your back and health. Maybe some of you don't have a backyard or garden but still would like to rest this way.

Another great place for a hammock is a balcony where you can hang your hammock on the rails. Of course, before any action make sure the railing is sturdy enough to support the hammock. In this article, we will show you how to do it. The usual places for hammocks are gardens, somewhere near the seashore or on the veranda but with a little effort, you can create an exotic corner for yourself in the city apartment.


Choose a hammock for you
You don't need too much space for a hammock. Even if your balcony is small, you can still make something of it and a hammock will add some style to your balcony.

For smaller balconies, you can choose between different types of hammocks such as hammock stool, portable hammock, or hammock swing.

The hammock stool is a great solution for smaller areas. The stool is very compact and can be placed on your balcony easily, it's perfect for reading or enjoying your favorite food. Portable hammocks are also a good idea because of their lightweight material who is able enough to hold up one person properly.

Portable hammocks often come with posts, so you won't need trees to hang on them, just hang it on the balcony.

Hammock swings are perfect for lounging on a patio, balcony, or indoors in a hot summer. They can serve you for years with minimum maintenance necessary.

As we said, if the problem is space, probably the best solution is a hammock stool for indoors and outdoors. Chairs can be hung anywhere and that's a huge plus for them. If your balcony doesn't have a support place you can always buy a hammock stand. Hammock stool are not developed the same way, it all depends on the mark and the manufacturers.



Some useful tips on how to hang a hammock
There are no particular skills required for this kind of job. We will share with you some tips and materials you need. Let's start with instruments and materials, you need a pencil, tape size, hammer drill, concrete drill, tongs, gavel, anchor screws with hooks, and hanging ropes. Once you got all of that, you are ready.

The suggested height is 1 – 1.5 meters of the floor.

The first step is to make a gap using a hammer drill; a gap needs to be 10mm deep.
After that, you have to take away the concrete chip from the drill hole.
Place the anchor screw in the drilled gap with a hook out and hammer it.
Also, hold the hook firmly, and use the tongs to tighten the nut rightly.
Node the rope on a hook and hang the hammock hook to the node on the string.
Do again all of this for the second part.


How to hang a hammock stool
There are many ways to do it. If you are planning to hang a hammock stool on revealed wooden beams like a gazebo or ceiling you don't have to look for timbers. Maybe you want to hang it on hidden wooden beams. You will find them easily by hitting the ceiling. All you need to do is just put the hook in the center of the timber.


Other useful tips about hanging a hammock

- don't forget that the maximum weight load is 160 kg.

- make sure to read the manual before installing and fixing your hammock.

- don't hang a hammock in a place that is exposed to direct sunlight or rain.

- before you enjoy your hammock, gently sit down when the oscillations have subsides then you can lay down.


You don't want to hang your hammock too high or too low. It's recommended to hang your hammock four or five feet over the ground level with a spreader rod, without a spreader rod it should be around six to eight feet over the ground. Don't forget that your hammock will sag over some time.


How to hang a hammock on a porch
Except for your balcony, you can hang a hammock on your porch too and there are two good ways to do it. You can go up or go sideways.

By going up, we mean you may hang the hammock from the ceiling. All you need to do is to find the joist in your ceiling. If you have any problems, the stud spotter can help you find the joist where you can hang your hammock.

Another solution is the sideways strategy. If your porch doesn't have a bundle at the ceiling, then this is perfect for you. All you need here is two rods to use as trees to set up your hammock. A railing could also be useful only if it's strong enough.

Once you decide where to place your hammock, you can start drilling holes, but before that make sure that the bars or the joist have no cracks and are in good shape. You need to firmly allocate the screws at the holes. The next thing you need to do is to put hooks on and they need to be leastwise 4-6 feet over the ground.

After you did everything precisely, the last step is to hang a hammock. Your hammock will have rings on both sides and just put your hook into them. If you are using rods of your porch then putting this up should be very easy.



Final thoughts
You need to consider many factors when hanging hammocks in your balcony. Most important is that the hammock is secure to provide your safety. Setup job generally is not so difficult but be sure to follow all the instructions from the manual.

Even though you don't have your garden or backyard there is still a way to enjoy a hammock. With kind usage and maintenance, it can relax you for years to come.