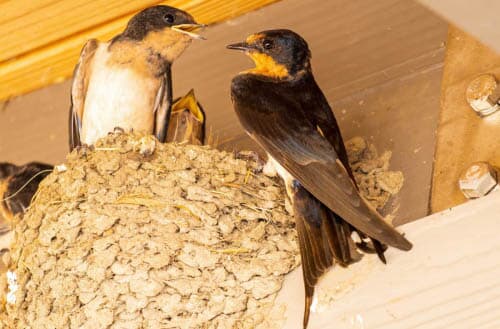 Although it's very nice to wake up with a swallow singing, barn swallows will bring you less attractive things when they move into your porch or property. In addition to constantly flying over your porch, piles of droppings are a very ugly sight that will become something you'll see every day. It's more than enough to make you want to get rid of them. It won't be easy, but there are several effective ways how to repel swallows without harm to them and your property. Also, don't forget that these animals are protected by law, so destroying their nests is out of the question. In this article, we will discuss possible methods that will help you get rid of these little birds.
Block possible nesting places
Barn swallows like to build their nests on specific places such as building eaves, ledges, or rafters. By blocking these places you will do the first and very important step in deterring them away from your property. If mentioned parts of the house look tempting to barn swallows one of the easiest ways to block them is by covering it with birds net. These nets can cover large surfaces and are very effective in situations like this. For even better swallow deterrent you can look out for special products like curtain of plastic strings. Swallows will avoid this surely. On the other hand, if you notice barn swallows around open ledges, get yourself bird slopes. All you need is to install this product on the ledge to create a smooth surface birds can't land on. Installation is pretty simple and you can do it by yourself. Almost every kit will come with end caps, so swallows will be unable to get behind slopes.
Try to scare them
Even if you block recently mentioned places, barn swallows will always look around for an alternative and if you want to completely get rid of them, you must actively scare them off. By this, we mean laser beams. It's been a very effective method of how to scare and deter many birds like sparrows and swallows. The location of the laser is random and it changes all the time so birds have no chance of adapting. Another effective way is sound. For instance, Sonic swallow deterrents will imitate predator sounds that will scare off every single swallow. The only downside of this method is that people can also be sensitive to this noise. For even better deterrence, you can buy some decoys of hawks and owls. This will also scare them, but be aware that over some time, swallows could realize it's only decoy. You can move them around your backyard to confuse them.
Repellents
If you still have a barn swallow problem, think about buying some repellents. These non-toxic chemicals will create a taste that swallows will avoid. You can get it as a spray, and spray it around their nesting places and their sources of food. It's important to know that most of these repellents are made from natural components and are safe for people and pets.
Get rid of nest
Barn swallows tend to re-use their nests next season. So, when they're gone remove the nest and all other traces they left behind. Put some fresh paint over nesting places to hide all traces that swallows had ever been there.
Alternative habitats
This could be a great idea for how to get rid of barn swallows. You can create alternative habitat to make your property less attractive to them. You must find the perfect location where they won't bother anyone and set up a nesting place. Look around for nest cups and available ledges. Keep in mind that you need to give a swallow a sense of security, so your nesting place must be at least 8 feet off the ground and around 5 inches under the ceiling. It also must be safe from rain and wind. Provide them some food source and the last thing would be a source of mud so swallows can create their own nesting material.
Final thoughts
To completely remove barn swallows from your property you will probably have to combine all of these mentioned methods. Block their nesting site, together with scare devices and some repellents. If you still have barn swallow issues, you can contact wildlife authority that will help you and find a way how to deter swallows from your backyard.