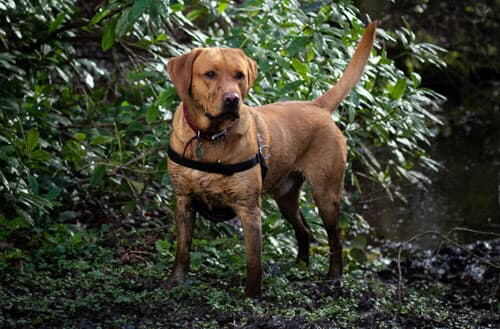 We all love our dogs, but they're not the cleanest animals as pets. If you are one of those who hates messy and muddy backyard, this article may help you. Even most well-behaved and trained dogs will sometimes bring mud and dirt inside after running in a muddy backyard.

Every owner wants the best for his dog, but at the same time clean house as well. It's not the dog fault, it's in his nature to roll around, run and play but sometimes, after rain, your backyard gets muddy with spots of dirt and sand. It's all adorable and cute while they're doing it, but cleaning can be a real nightmare.


Some solutions that may help you
First, you need to consider how many dogs you have and then your budget. Do you have enough money to fix muddy spots in your yard? Or maybe you already have some items that can be useful in a situation like this? Consider also what kind of dog do you have? Some breeds need more space than others. Also you need to consider how large is an area you will treat and adjust your budget according to that.

We can divide possible solutions into groups, temporary fixes, quick fixes, easy fixes, and permanent fixes.




Temporary fixes
Let's start with temporary ones. Straw or hay may be a temporary solution to cover the ground and prevent it from washing away. Artificial grass also could be useful, but you need to consider the size of your backyard and what you want to cover, only dog trail or more than that.

Quick fixes
If we talk about quick fixes it's surely sand. Sand can cover mud but be aware that dogs will roll around and play in it so your house could be turned into a beach. Mulch is another good and quick solution. Mulch can cover anything but use it only if you can monitoring your dogs while they're outside because they will probably try to chew it. You can use rocks as well and that could be the best of all quick options. They come in all sizes and are easily placed.

Easy fixes
Easy fixes imply prefab pavers. You just need to put them on spots you want to cover, very quick and easy. Kennel decking is something you may use too. It looks like a deck on the ground, also very easy to use and clean.

Permanent fixes
A permanent fix includes concrete paths. You can make them slightly wider so your kids if you have one, can play besides your dogs. Flagstone paths are also a great solution. You can choose between many different samples and make a beautiful path. There are many plants that are non-toxic for dogs and can help you with this problem. Some of them even smell that will detour many insects from your yard. If you love working in your backyard consider that too.


Final thoughts
It doesn't matter if you have small or huge muddy spots in your backyard, dogs will make a mess out of it. We all want to avoid hard cleaning so take your time and develop your strategy on how to fix these muddy trails. We are sure some of these ideas will be helpful.