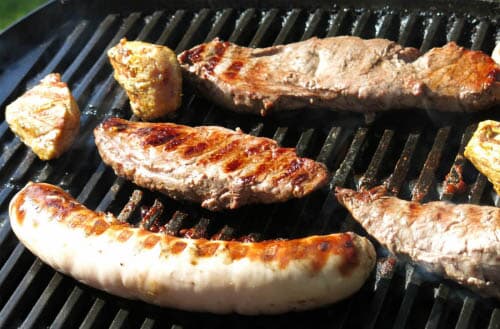 An electric grill can be a very simple and effective cooking tool for burgers, sandwiches, or any other kind of fast food. While making dinner is pretty easy, getting rid of sticky pieces of meat from your grill can be a real nightmare. Nobody likes to wash the dishes and grill after the meal but that's something you must do. In this article, we will show you three ways how to clean your electric grill without much trouble.
Cleaning countertop grill
Let's start with a countertop grill. First of all, you need to unplug your grill to protect yourself from electricity before you put a wet sponge on the grill's surface. Let your grill to cool for about 15 minutes then do the job. The grill should be slightly warm while you are cleaning, it will be easier. Use a rubber blade to pull off leftover food. Never use abrasive pads that can hurt grill plates. Also, some electric grills come with a rubber blade as part of the equipment, but any other blade probably will be good. Erasure the plates with a sponge. Washout the plates frequently while until all the filth is gone. Remove the drip plateau and wash it with soap water. Decompose your grill by plates and the drip plateau for easier cleaning and wash it with a wet sponge. After that, dry all the mentioned pieces with a paper towel. Some grills have separable pieces that can be washed in the dishwasher, but that will write in your owner's manual.
Cleaning the outdoor electric grill
Like in the example before, turn off your grill and then start cleaning. Find the power button and turn it off. Use a steel brush to pull of leftover food while the grill is still warm. Take the liner off and use the rubber blade to remove dropped food pieces. If it's too messy, use soap as well. Remove the grids and wash them with soap water but if it's not very dirty you can skip this and use only steel brush to clean it. It's very important to dry every single removable piece before putting it back. Use a paper towel for that as we already said. Once a year, you should clean the grids using vinegar and baking soda.
The alternate method to clean electric grill
After you're done with your cooking, turn off your grill and let it cool for about 5 minutes. You will need paper towels to put them between plates. Use two moistened paper towels and put them on the bottom plate. Close the cap and let the paper towels do the job. Leave it this way for one minute and any grease will be gone. Open the cap and wipe the plates. Use sponge and soap and clean the whole grill. The last step is to wipe down the grill with a dry dishtowel.