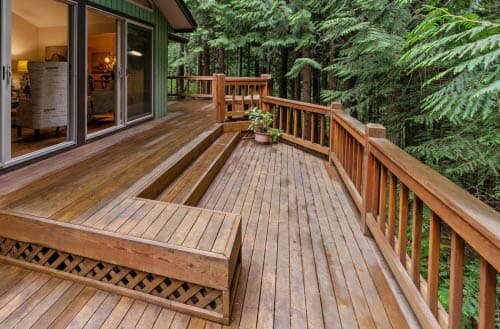 The wooden deck provides you outdoor living space where you can enjoy your free time with family and friends. So deck maintenance is actually a very important home task you should take care of. A good and well-maintained deck will look great but at the same time, you will extend its lifespan. In this article, we will talk about how often and how you should stain your deck. It's recommended to do it every two to three years. However, it depends on many factors. First of all, in what condition is your wooden deck and how old it is, the type of deck material, and many more?
Some maintenance tips
Every year take some time to check your deck. If you live in an area with a lot of moisture and wet winters, do that early in spring before the warm weather seasons. Take off everything from your deck and look for signs like lax boards, rotting wood, or large plywood.
If you have problems with nails sticking up, you can easily solve that with a hammer, but if the problem and damage are bigger you should ask a professional handyman for help, in case you need to replace or remove a bigger part of your deck. A handyman will have the proper tools and know exactly what to do. In case your wood is in good shape you can clean it with commercial products and tools. Some of them can be brushed on, while other cleansers work with a power washer. Don't forget to move away or cover plants and grass before doing this because some products can hurt them. The next move is to look after the wear of your deck stain. There is no right number or rule on how often should you stain your deck. The type of stain, wood, and area you live in determines it. However, it is an unwritten rule that you should do it once a year or every second year.
What about stains
When it comes to stains, it's very important to choose a quality one for your deck. You can pick between water-based and oil-based stains. Each of them has its advantages. For example, water-based stains give you the best color retention, at the same time they are very easy to work with, and any mess can be cleaned up with soap and water. Water-based stains aren't flammable and they dry much quicker than oil ones.
Oil-based stains also have their good sides. Your deck will have longer and better protection from oil-based stains. They are more durable and that's very important, especially in tough climates. Longer drying time gives you more time for details and even finishing. But be careful, if you never use an oil-based stain, maybe it's better to let the handyman do the job.
DIY staining
If you did this before or you are a new homeowner doing this for the first time, we will list you things you will need to do the job properly. People who already have some experience also have the tools which they upgrade as needed every year before the staining. Here is a list of things that you need: some plastic tarpaulin, a huge push broom, some deck cleaner, protective glasses, stain, paint rollers and brushes, a sander, and of course, a safety mask if you are working with oil-based stain.
But before doing this, think twice. Doing it by yourself will save some money but let's be honest you won't do that as well as professionals. If you hire them, your costs will be bigger but also deck will be better protected. Put everything on paper and make a decision. Either option is better than doing nothing and ignoring your deck. It's an important part of your house and doesn't neglect it.