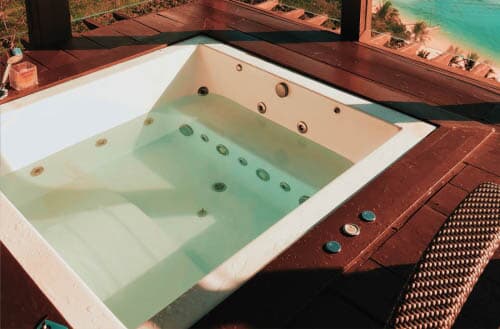 Almost every hot tub owner likes to rest in a warm bath after a hard day at work. It's a perfect way of relaxation but of course like every other activity it shouldn't be exaggerated. Resting in a hot tub brings many health benefits but if you soak for too long, it can be dangerous. There are many variable factors you must consider while you enjoy your hot tub. Some people could be in real danger by soaking too long without even realizing that. In this article, we will do some research about how long can you stay in your hot tub and which factors you need to pay attention to.
Hot tube temperature
Let's start with hot tub temperature because it's one of the most important factors in determining how long can you stay in the tub. If the temperature is around 98 degrees, it won't affect you at all, but if you raise your temperature by three or four degrees your body will feel it for sure. As we all know, our body perspires and releases heat. The problem is when the external temperature is too high and by that we mean 100 or more degrees, perspiration automatically becomes much harder and you need to get some water inside you, otherwise, you will become dehydrated. Of course, you can avoid all of this with one little bottle of water next to you while soaking. Keep your temperature between 100 and 102 degrees with a bottle of water close to you. In these terms, you can soak for 15 - 30 minutes or as long as you feel good.
Your age
Age also matters. If you are a healthy adult person you should be able to soak at 102 degrees without any consequence. But when it comes to children under the age of 12, there are some limits. For example, kids under 12 should spend 5 minutes in the hot tub at 104 degrees. If the temperature is between 98 and 104 degrees, soaking about 15 minutes will be just fine. Also, it's recommended for kids not to immerse their whole bodies in the water.
Your health
Overall health, mental, and physical also play a big role. If you are pregnant, the temperature shouldn't be higher than 102 degrees and even then soaking must be in short periods of about 15 minutes. People with high blood pressure or diabetes must consult their doctor for approval before going into a hot tub. Soaking on your own can be very dangerous.
How do you sit in a hot tub?
All hot tubs have seats on many different heights and that way you can cool some body parts. For example, if you sit on the lowest seat for about 15 minutes your body temperature will rise much faster. The best is to change your position from time to time and cool your body. That way you will be able to stay inside a hot tub much longer.
Dangerous situations
After all factors, the best method of how determining the duration of the bath is your own body and the signals you get from it. One of them is dizziness and if you feel it at any point, it's a sign that your body is much hotter than you think. Take a rest and get out for 15 minutes or more. Overheating can be very dangerous and most people realize that too late. Some signs of overheating are headache, dizziness, fatigue, or increased heart rate. If you feel any of these symptoms get out of your tub and take a rest and if symptoms progress call your doctor. Nausea and vomiting are also one of symptoms that can be caused by heat. Even though there is no clear sign of heatstroke, nausea indicates that you should take some rest outside. Burns on the skin also can be seen if you have sensitive skin, don't ignore that. Problems with blood pressure are also usual in this kind of heat. Many of the symptoms are the same just like with heatstroke.
How long should you be in a hot tub?
Well, if you are an adult, healthy person you should be able to soak for 30 or even more minutes without feeling any effects. However, it's better and safer to stand some limit, and let's say 30 minutes per round. After that get out of the tub and rest before going in again. In the end, how much can you stay in a hot tub depends on your own body and comfort level. But, if you feel any of the symptoms early mentioned take a rest and seek help if it's necessary.
Final thoughts
To sum up, there are many factors you must consider if you want to determine for how long can you soak. Enjoy it as long as you feel comfortable. Hot tubs are great to spend some time with loved ones and forget all the problems that bother you.