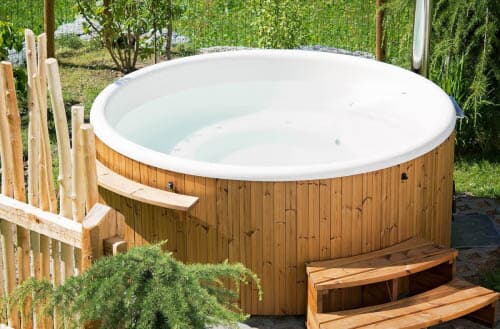 Hot tubs provide great pleasure during colder months, but how can you use them in summer? In hot summer, jumping into a hot tub definitely won't be a pleasant experience. However, you can still use a hot tub during summer without fear of heatstroke or dehydration, but do it early in the morning or at night. You can also convert your hot tub into a cold tub. Keep reading if you want to find out more about how to enjoy your hot tub even in high heat.
Hot tub temperature in the summer
The usual temperature for hot tubs is around 40°C, but we recommend lowering it up to 36°C at least. Water temperature is important because it determines how long can you soak. Higher temperature means shorter soak time. Also, consider the sun that will heat the water further.
How to cool down your hot tub
Most people go for a simple option like covering up hot tubs during the summer months, but there is an even better way. Well, you can just turn off the power and let the water cool but it's not the best option. Your water will sit still and there is no circulation or pumps. These conditions in mixture with skin flakes or body oils are ideal for bacteria growth. Even with chemicals against it, you're not safe. The best option is to turn to your control panel. On the panel, you will have two or on some tubs three modes. Economy mode, sleep mode, and maybe even summer mode. Switching to economy mode is highly recommended during summer. The temperature will be around 15 degrees lower than it was arranged first. The main reason why this mode exists in electricity costs but can serve during hot days. Summer mode is an option that only some hot tubs will have. This mode actually allows you to run your hot tub as a pool. It has a timer that shuts off the pump for eight hours which allows your tub to cool.
Morning and evening soaks
In regions with low moisture, the temperature will start to drop in the late afternoon and the bottom will be at late night. With the first sunlight, the temperature will rise again. It means that in many states, dusk and dawn are ideal times for relaxing in your hot tub. In northern, cooler states like Montana, Wisconsin, Maine, or Washington conditions for this kind of rest and pleasure are even better. More and more people enjoy night hot-tubbing after a hard day or in the cool morning hours to prepare for another long summer day. On the other hand, there are areas with high moisture and lots of rain. In some states, the rain lasts for days even weeks. So, if there is no danger of thunder and lightning you may think about hot-tubbing in rain. Cold rain will wash your face while the rest of your body enjoys the heat.
Positive effects of hot-tubbing in summer
Besides fun, hot tubs can improve your health. After hard work in your backyard or gym maybe, a hot tub can help decrease soreness. You can enjoy the hot tub with family and friends and upgrade your social connections. It can help you with allergies. Many people have this problem in summer and it's proven that the hot tub is effective in controlling and decreasing the effects of allergens. Also, half an hour of soaking in warm water will improve your sleep as well.
Final thoughts
To sum up, even in the middle of the summer you can use your hot tub. You still need to cool the water, how much depends on the weather and use it in the early morning or late evening. No matter what the season, it will always be a joyful experience.