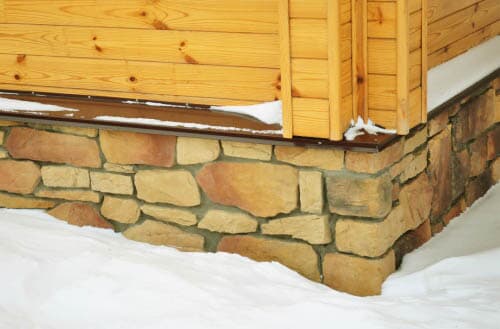 Today you have many options to beautify your property and make it more pleasing to the eye. It all depends on your wants and needs. With some creativity, you can save money and achieve almost the same effect as some expensive product you would have to buy. Here we come to the main topic of this article, and these are the foundations of the house and how to hide them. Almost all homes today have exposed, large foundations and many people don't know what to do with them. One of the first ideas is to hide it, but it's not that easy. In this article, we will suggest you some creative ideas on how to hide your foundation and make your yard more attractive.
1. Stucco
Stucco is less used today for interiors, but for exteriors, it is still a popular and good option. This is a classic option for simple, beautiful, and clean landscaping of your foundations. It can also be combined with the color of your home in a variety of ways.
2. Plant flower beds
Another logical and very effective method is flower beds. Hydrangeas should definitely be singled out as perennial shrubs. Simply place a series of flower beds around your foundation and plant the desired plant. This will greatly improve the aesthetics of your home. We suggest hydrangeas because they are here for you all year round and can be perfectly combined with other flowers. Why not give it a try?
3. Keep it simple - Paint it
If you are not one of those who want something spectacular and prefer simple things, then painting is for you. Note that this is not as easy as it seems, but it's a very effective way to hide the foundations and fit them into your property in the desired way. Make sure you have quality paint that can withstand all weather conditions. Also, don't forget to clean the surface of the foundation before painting and remove all cracked material. If you think this is too much work for you, you can always turn to professional home painters who will do the work for you.
4. Gravel or decorative rocks
This is also one of the simpler ways to hide the foundation. Simply place a layer of gravel or decorative rock at the desired height and the problem is solved. If you are creative you can put them together in a special form and improve the aesthetics even more. The rock will deter pests from your house and keep the walls clean. If you have problems with moisture in the basement then gravel will come in handy. Definitely, a method that has a lot of good and positive effects.
5. Lattice
Cross lattice can also be a great solution for you. This will definitely add a little country spirit to your backyard. It's very easy to set up and you can do it by yourself. You can use bricks, but also buy wooden lattice. It isn't an expensive investment, and it will mean a lot for the look of your foundation and house. After finishing the work, you can paint the lattice in the color of your choice.
6. Corrugated sheet metal
Be sure to consider corrugated sheet metal as well. Metal sheets are easily available in various home stores. You can combine them in various shapes and colors to your liking. The big plus of this method is that the sheet metal can be very easily cut and installed anywhere. Besides hiding the foundation, it will also give an extra note to your yard.
7. Brick
If you are the standard type who likes classic editions, then the brick is the right choice for you. Also like the previously mentioned materials, bricks can be found in various shapes and colors today. With them, it's very easy to break the monotonous foundation and decorate your home. Red brick, for example, will greatly increase the aesthetics of your home, but also give it an extra level of protection. If you aren't skilled or have never done something like this with a brick, our advice is to hire a professional company that will do the job for you and hide the foundations in a great way.
8. Cement blocks
Another effective way to hide the foundation is definitely a cement block. Like a brick, there could be installation costs if you aren't skilled at doing it by yourself. They are a great choice because of the many patterns that can be combined with your house. Cement blocks are also readily available at almost all local stores.
9. Stone
At the end of our list, you will probably find the most expensive option for hiding the foundation, which is stone cladding. The stone will greatly increase the attractiveness but also raise the price of your house if you sell it one day. Like we said, it's a more expensive option, but you'll get a superb, modern look. The work isn't easy, so it may be better to turn to professionals for help.
Final thoughts
As you can see, there are many options and ways to hide the ugly look on the foundations. It all depends on your preferences and desires, but also on the budget you have at your disposal. We hope these ideas here will help you in your selection, good luck!