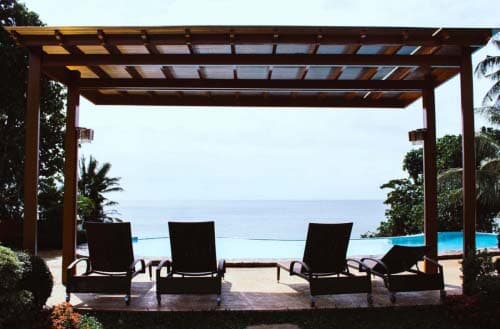 We all can agree that there is no better feeling than starting your day with a cup of coffee and admiring the beauty of your garden and surroundings. However, weather conditions often spoil that atmosphere and there is the part where an enclosed patio can help you.
The enclosed patio gives you protection from all outdoor elements, so weather conditions won't determine for how long and when you can enjoy your coffee. In this article, we will discuss all benefits of an enclosed patio and give you some ideas on how to fit your own patio in the backyard.
Enclosed patio cost
The price depends on what you want but it can vary even from $500 to a huge $23,000 but on average you will spend around $15,000 and that covers the cost of installing a patio. To be honest, this is a lot of money, but this enclosed patio will also bring you multiple benefits. It will increase your living space and probably become your favorite place for rest after a hard day at work.
Factors that define the cost
The first factor is the size. Obviously, this is the biggest factor because you won't pay the same amount of money for a patio with an area of 400 square feet and a patio with an area of 1000 square feet. A bigger one will require more materials and take more time to be done.
When we talk about patio enclosures, there are several possibilities. The first and probably the most represented method is to put up a roof. Another good option is an awning and more and more today people decide on this option because it's cheaper than the roof. With an awning, you must cover the sides of your patio using a shield. The only problem could be their strength, they are weaker than real walls or roofs.
If you go for a standard enclosure most of your budget will be spent on windows. In areas with strong winds, your windows must be strong and durable. The cold climate, on the other hand, asks for double-glazed windows for better isolation. That's why the windows are so important. Less amount of money you will spend on screens, but that doesn't mean they are less important. Screens are used in a warmer climate in order to protect your patio from pests.
Permits are also very important. Every city and state has its own regulations when it comes to building patio enclosures. Before you do anything, make sure you are allowed to build and check that with your building department. Follow every detail, especially if you live in an area where permission is required.
How an enclosed patio can improve your home
Gives you protection from the elements: you can go for a modest room or full solarium. Both of these models offer you protection from pests and wind. A screen room is a great choice if you want your patio clean from leaves and debris. Screening is probably the best option because it protects you from the sun, rain, or any other atmospheric conditions but at the same time gives you a chance to enjoy the outdoors.
Enjoy more space at your home: this is very important not only because of the extra space, you will have a much bigger house but also because of the bigger resale price of your house. The enclosed patio is believed to keep as much as 72% of its value if you decide to sell your house someday.
Watch sports and film outside: when your enclosed patio is finally done you can have some special features like a large smart TV or maybe a barbecue. Your weekends will never be the same if you like sports, you can turn a part of your patio into your own sports bar and enjoy the game.
Entertain yourself the whole year: an enclosed patio is the perfect place to host gatherings. You can invite your family and friend any time for a barbecue or just a casual party. Outdoor shows can be held in your garden while you and your guests enjoy the warmth of the enclosed patio.
Perfect place for kids and pets: the enclosed patio is in fact the perfect place for kids and pets as well. If your garden is not fully secured or you are just scared to let your kid play alone outside, a patio is a great solution for playtime while you're making dinner. The same thing is with pets. You can dedicate one corner of your patio for your pet where the animal will be safe.