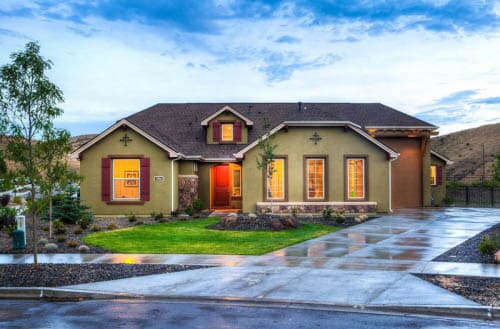 A driveway isn't just a spot for parking your car, it's actually a very important point of your home. Driveways usually are in front of your house, so that's the first thing people see and it's where you will be returning home for many years to come. Don't neglect this part of your yard and do your best to design it in the best possible way. Take care of the size and space you got, and align it with your ideas. There are many possibilities depending on what you like and can afford. We will show you some features of the most common ways of arranging the driveway, and below you can find 15 examples of how to do it.
Let's start with asphalt. This is a cheaper solution and is perfect for a smaller driveway or if you are short on a budget. If it's done correctly, it can look really nice and smooth agreeing with the road outside. The main disadvantage is limited color choices and shelf life. Although asphalt is long-lasting, many chemicals that come in contact with it can destroy your driveway.
Stone and gravel driveways are also very common today. They are a perfect option if you want to deter burglars because the material can be very noisy while parking a car or just walking over it. This is a very affordable option but keep in mind that you will have a lot of work to keep it clean from grasses and weeds, so regular maintenance is necessary.
Block driveways are next also a very popular solution, but this one will cost you a little bit more. Certain patterns demand exact laying so installation costs could be huge and you will probably avoid this option if you're short on your budget. If you go for it keep in mind that your driveway will need regular maintenance because of moss and algae that can show up easily.
Brick driveways are not as popular today as before, but still, it's very nice and fashionable. Just like block driveways, installation costs could be very high and that's one of the reasons why people don't go for it. Also, when it's wet outside this driveway could be very slippy, especially if the driveway is sloped.
1. Asphalt
2. Concrete driveway with curbs
3. Big trees driveway
4. Asphalt Driveway with wooden fence
5. Concrete green driveway
6. Curved driveway
7. Cypresses avenue driveway
8. Gravel driveway
9. Live fence driveway
10. Modern pavers driveway
11. Natural driveway
12. Old vintage driveway
13. Pavers driveway
14. Rural driveway
15. Uphill concrete driveway