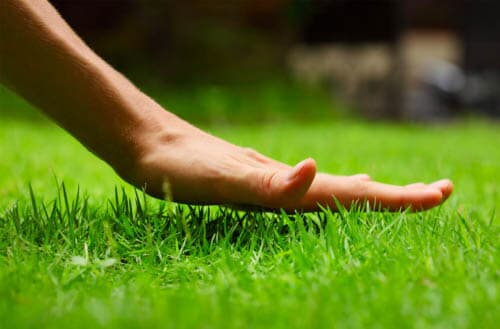 Most people have a gas mower and it's an acceptable method of mowing backyards of any size today. Limiting storage space or caring for the environment forces some people to consider other mowing options.

And yes, and it's possible to mow and tidy your yard without a classic gas mower.

In this article, we will list a few ways how you can mow your yard in a slightly different and unusual way. Also, this can help you if your lawnmower breaks down while the grass in your yard and garden is terribly large.
Scythe


Let's start with an old, classic method of cutting grass, the so-called ''by hand'' method that involves scythe. If you've never seen a scythe before, it's a large metal blade located at the end of a long stick. The blade is curved and intended for cutting back and forth. This method is not used by many people today, but it can be very effective.
It is especially useful when mowing tall grass where the scythe easily mows everything in front of them, while with gas mowers you wouldn't be able to do so. As you mow with the scythe you gently swing back and forth and use your thigh muscles.
This method isn't for everyone as it requires a large amount of strength and energy and can serve you as a great workout. Be sure to pay attention to safety, a metal blade can be very dangerous.
Hedge trimmer


Another option is a hedge trimmer. This trimmer is similar to that for weeds with a few differences. The hedge trimmer is a bit like a chainsaw and its main role is to cut parts of the bushes.
But it can also be an effective method for mowing your lawn. As with handling the trimmer, you will need exercises to get the perfect cut. Safety is extremely important here as well, make sure you only mow the grass, remove all surrounding objects. One of the biggest advantages of this method is that you can trim your lawn and prune shrubs at the same time.
Shears


If you have more free time, shears are also one of the options, but they only come into consideration if you have a smaller yard. This method of cutting is time-consuming but extremely precise. These are actually giant scissors you will hold with both hands. You will also need knee pads because you will be in a kneeling position all the working time. If you're impatient by nature, skip this method.
String trimmer


Gas mowers take up a lot of space in your warehouse or garage, but this isn't the case with a string trimmer. They are skinny and tall and easier to store, and today they also exist as a wireless option which makes their use even easier. If you have a wired version, make sure you have a long enough extension cord to cover your entire yard.

Note that the grass you mow is dry, moisture will cause uneven cuts. When mowing, your posture and grip are very important, find the position that allows you the most even cut.
This method also has its drawbacks, and it's certainly the time it takes to mow a yard that is significantly longer than when mowing with a gas mower. Also, you don't have a basket that collects grass, so it is scattered all over the yard. You have more work to do to pick it up after mowing.
Other ridiculous methods
There are some methods that are pretty funny but believe us, some people use them too. If you're an adventurer and want to try something new, this is for you.
Maybe golf clubs? Hockey sticks can also be used for this method. Some people have gone so far as to try it with a baseball bat, but that's a different story. In this method, simply swing a stick an inch or two above the ground to mow the tall grass. Of course, your lawn won't really look neat after the job is done, and your shoulders might hurt too.
If you have several sheep, they can also help you mow the lawn. Sheep are famous herbivores who like to eat grass to a very low point. This method may sound crazy, but it really isn't. Before the invention of the mower, people used sheep to mow lawns. Other cattle like cows can also serve, but in that case, be prepared that you also have to clean the poop as well as numerous complaints from neighbors about the stench.
Final thoughts
As you can see without gas mowers, it is very possible to mow your yard, but in most cases, you will need more time. However, if you have a smaller yard some of the above methods might be more convenient than a classic gas mower. Judge for yourself what suits you best and enjoy arranging your yard.