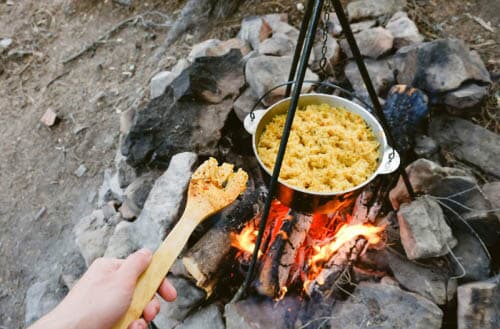 Going camping is a wonderful thing, especially when you have someone to go with. In addition to the fact that you will need a tent, you will also need food and drink. To keep food and drink fresh, most campers carry ice-filled refrigerators with them but what if one refrigerator wasn't enough for you and a couple of them would take a lot of space? In that case, some ideas on how to prepare food without needing a refrigerator would come in handy. Although you may not be able to imagine camping without a refrigerator, it is quite possible. Therefore, the next time you decide to go camping, leave the fridge at home and prepare some of the following recipes for food and enjoy!
Breakfast ideas
1. Hot drink
Do you start your morning with a cup of hot coffee or tea? You certainly won't need a refrigerator for that. Simply take your favorite coffee with you (it's easiest to make instant coffee on a camping trip) or a bag of your favorite tea and pour boiling water over it. You can also pack small bowls in which you pour sugar and powdered milk, which is a perfect substitute for liquid milk. Liquid milk isn't an option because you don't have a refrigerator. Powdered milk is very easy to use, it's enough to add water to it and it tastes equal to liquid milk.
2. Hot chocolate
Hot chocolate can be enjoyed by adults and not just children. Also, except for breakfast, it can be great to serve in the evening to keep you warm.
3. Bowls of cereal
When preparing the cereal you can again use the milk powder we mentioned earlier. Depending on how long you stay, bring a few packets of your favorite cereal, put them in a bowl with powdered milk, add water and breakfast is ready to serve. Nothing easier!
4. Oatmeal
While children prefer chocolate cereals, adults may prefer oatmeal for breakfast. You have to buy oatmeal in bags that are already sweetened with various flavors. All you need is to pour water. If you wish, you can bring honey or maple syrup and sweeten your breakfast even more.
5. Musli
This is a great idea for a quick and healthy breakfast. You can make muesli by yourself or buy ready-made so you just need to add powdered milk to make breakfast ready.
6. Energy bars
We believe this is the fastest breakfast possible because you don't have to prepare anything yourself. Buy ready-made bars you like. You can put them in a backpack when you plan to move away from the tent and go for a walk or hiking because in addition to breakfast they can serve as a great snack during the day.
7. Pancakes
Otherwise, pancakes require more effort, but now we can buy a ready-made pancake mixture, although we can make the mixture ourselves and take it in bottles. For this delicious breakfast, we will need a little oil, a frying pan, and a fire. The thumbs can be sprinkled with syrup or smeared with jam. Although this breakfast requires time and effort, it's so delicious to eat hot pancakes in the middle of the woods that you won't regret baking them!
8. Bread
With bread you can do so much: you can toast it and spread it with various spreads, just make sure that the bag in which you keep the bread is firmly tied so that the bread doesn't dry out. Also, don't keep the bread in the sun but in a dark place.
9. Fresh fruit
The fruits that are best to have on the trip are bananas. They are cheap and yet contain enough nutritional value to serve as breakfast. The problem with bananas is that they can't stay fresh at big temperatures for long. While they can otherwise last up to 10 days, in the sun you would have to eat them within 2 days. Bananas are available to us throughout the year and besides them, you can take any seasonal fruit for camping. If you are a fruit fan, a fruit salad is an excellent and healthy breakfast.
10. Canned fruit
If you are limited with space, you can take canned fruit with you instead of bags of fresh fruit. Depending on what you like, you can choose different flavors. This is a great way to get kids to eat fruit.
Lunch ideas
1. Bagel
You can buy fresh and packaged, in which case the bagels will stay fresh for at least 3 days. After three days they will lose their freshness, then you can grill them with a little oil, salt, and garlic.
2. Sandwiches
Make a tuna salad and spread it on bagels or bread. In the tuna add some sauce, if desired, (mayo packets) or flavors to your liking.
3. Canned chicken
Great idea for a nice picnic lunch. Prepare crackers or fruit like grapes and serve with canned chicken and as with tuna, you can add mayo or other sauce.
3. Vegetables
Certain types of vegetables can stay fresh for several days without a refrigerator. Carrots, cherry tomatoes, cucumbers, radishes, and the like. With sandwiches, you can serve chopped fresh vegetables and get a healthy lunch. Keep vegetables in a cool, dark place to extend their shelf life.
4. Homemade desserts
Cookies must be made before you go camping and pack them so they don't dry out. Homemade cookies can be muffins, brownies, or some cookies that you and your family like to eat. Bake a larger amount, we're sure everything will be eaten! If you don't have time to bake, although it won't take much time, you can buy ready-made cookies and take them on the road.
5. Fried Chicken
Since you have decided to go camping without a refrigerator, you need to prepare fried chicken earlier and we know that it's very tasty even when eaten cold. Of course, you can heat it by the fire and serve it with a warm side dish.
6. Jerky
Choose between the flavors of chicken, turkey, beef - almost all types of meat. A great alternative to lunch if you're on the road because you don't need utensils, you can nibble on it while walking. If you are a big fan, buy yourself a machine and make your own jerky.
7. Pie
Make a biscuit earlier or buy it ready-made and make a filling from canned fruit. We recommend cherries. None of this needs to be refrigerated.
8. Salad
Choose several types of vegetables and pour dressing over them. Serve bread rolls with the salad. To make the salad even more filling, you can add pasta.
Diner ideas
1. Soup
You can buy the soup canned or cook it yourself. For canned soup, we advise thick soups that will quickly saturate you after a hard day. In addition to canned, you can also cook the soup on a campfire. Buy the necessary ingredients earlier, before going camping, and for soup, you will need a soup cube, spices, fresh vegetable soup, and meat as desired. With soup, you can eat fine and warm up before going to bed.
2. Grilled vegetables
Prepare vegetables such as mushrooms, zucchini, onions, peppers, corn, and carrots, and place them on the grills above the campfire. Pour oil over the vegetables and season. A warm, delicious, quick, and healthy dinner.
3. Pasta
Add a little oil and salt to the water and when the water boils, add the pasta. Cook the pasta al dente, strain it, and put it in a pan together with the tomato sauce (homemade or canned), a little garlic, and parsley. When everything thickens, add the cheese on top and enjoy. Keep the hard cheese in the dark, well packaged and after a few days, wrap it in a cloth. You can also prepare pasta with pesto sauce, the procedure is the same as with tomato sauce.
4. Mac and cheese
In the absence of time, a box of macaroni and cheese can get you out and the kids will love this dinner. Boil the pasta in water, drain, take the cheese and milk powder, and add water and a little butter. Dinner is ready for about 15 minutes.
5. Rice
Rice is very easy to prepare, just add the rice mixture to the boiling water. Of the various flavors, one must suit you. Rice is a nutritious food, so you can eat it as a main dish but also as a side dish.
6. Tortillas
In tortillas can put almost everything: fresh vegetables, sauces, rice, canned products, and spices ... Heat the tortillas lightly in a pan over a campfire. If you are a fan of Mexican food, add beans, corn, peppers, and Mexican sauce (salsa) in tortillas. When you have put the filling, roll the tortillas, and serve them still warm you can put the cream and melted cheese on top.
7. Nachos
Just because you're in the woods doesn't mean you can't enjoy nachos. Prepare them as you do them in the kitchen too and don't skimp on the cheese because once the cheese is melted over a campfire, the taste will be great!
8. Noodles
Another great way to warm up. This is also one of the cheapest options that require minimal effort. Just buy a box of noodles and pour hot water over them.
9. Pizza
It will take you 35 minutes to prepare the camper pizza. Take the yeast in the bag, the flour, a little salt and water, and oil and knead the dough. When you have made the mixture, put it on warm to let the dough rise. Divide the dough into two parts. Take a pan, grease it with oil, and cover the bottom with one ball of dough. Bake the dough for 5 minutes in a covered pan until it becomes crispy and turn it over. Then add the basil, cheese, and tomato sauce and your pizza is ready. Do the same with the other half of the dough to get two delicious pizzas.
10. Boiled corn
It will take you about 3 hours to cook the whole corn. In a large bowl over a campfire, place a pot full of water, salt the water, and add the corn to cook. Corn you can eat the next day.
Snack ideas
When choosing snacks there is no excessive difference whether you have a refrigerator or not. Popcorn, chips, cookies, dried fruit, crackers, you can take it all with you camping. You can also make popcorn yourself if you have a little oil, grains, and a pan with a lid. Of course, you can also carry chocolate or pudding just be careful not to keep them in the sun.
Conclusion
Going camping without a fridge doesn't mean you'll starve nor do you have to eat only cans. As you can see, there are countless ways to stay full and eat deliciously even while camping. Depending on how long you stay estimate how much food you will need. It would be a good idea to use expired foods (such as fresh vegetables and bread) first, followed by canned and dry foods. For breakfast, you won't need much effort while for lunch or dinner you can put in a little effort around cooking. You can also combine dishes, they do not necessarily have to be in the categories in which we have classified them. We hope that some of the ideas will come in handy and that you will enjoy both nature and food while camping!