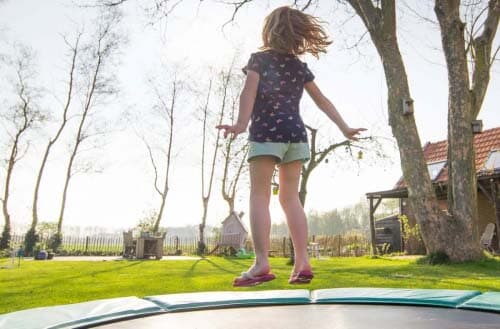 In more and more backyards these days you can hear children screaming with joy as they are playing with their newest home playground equipment. A while ago thought to be an integral part of fairs, trampolines have made their way to more and more homes as they have been made affordable and have managed to retain their simple yet fun nature which attracts children from all over the neighborhood. Their uniqueness coupled with the fact they can actually improve children's health through giving them a chance to do some cardiovascular exercise disguised as playtime.


However, as with all playground equipment, proper care and supervision should be employed since there are certain dangers. Today, trampoline production has been streamlined through governmental and non-governmental agencies such as The American Society for Testing and Materials. Certain guidelines must be met in order for trampoline manufacturers to be able to place their product on the shelves of those sellers who comply with the Society's guidelines. These guidelines include but are not limited to: the quality of the steel frame and the mat, the durability of the whole jumping pad and the springs etc.


Even with all these guidelines in place, there are sure to be differences between one kind of trampoline and others that might be on your buying shortlist. What are they? This article presents information on five recommended trampolines based on the features they bring.


When buying a trampoline, some of the features you should be looking at are safety, ease of assembly and ease of use, overall quality of the product, the weight limit, price, and of course value.
In this article you will find:
- Trampoline recommendations
- An exhaustive judgment on their features
- Quick pros/cons list for every recommendation


Skywalker Trampolines 15-Foot Jump N' Dunk Trampoline with Enclosure Net - Basketball Trampoline
The Skywalker Trampolines have long been known for their affordable prices coupled with good quality. This has made them a household brand which is often the go-to when you want to buy something without hassling too much over how much it's going to cost and whether you're going to get your money's worth. In these aspects and many more, the Jump N' Dunk Trampoline has got you covered.

FEATURES REVIEW

When your trampoline finally arrives, and your young ones are itching to play, the last thing you want is to spend multiple hours or even days with several family members or friends scratching your head on which part goes where, or even having to go all over again because you put the mat all wrong since the instructions are very vague. Well, good news… Kind of. While the recommendation is to get a willing friend to help you and streamline the process, this trampoline can be easily put together on your own in about 2 hours. The parts seamlessly fit into one another and if you are able to find everything and put it in their place, it'll be done in practically no time. But there is a catch. The Skywalker Trampolines are notorious for their straight to the point instructions which can put you in a pickle if your way of thinking does not correspond to the manufacturer's way of thinking. Therefore, to circumvent these potential problems, keep a phone handy and do a quick search for a good setting-up video on Youtube, which will make sure you do not have any problems with the thing.
Once set up, the size of the trampoline is 15 feet in diameter, which is plenty of space to keep your young ones occupied and not jumping on top of one another, yet they're close enough to not feel overly separated. This also means that while the trampoline itself will require a sizeable part of your back or front yard, it simultaneously does not ask for too much and you can set it in a place where the children can be easily supervised.
The ease of supervision comes hand in hand with the safety measures already put in place by the trampoline itself. There are no openings between the net and the jumping surface which makes it a lot harder for children to accidentally pinch themselves. The springs are, as one would expect, also placed outside the enclosure where children who are currently playing cannot accidentally reach them. The same diligence has been applied to the net setting, which is away from the (still padded!) poles and can be both zipped and latched for maximum safety of users.


To remain safe, the manufacturer has recommended a maximum user weight of 200 lbs. In standard compliance with ASTM, the trampoline has been tested to withstand four times this limit. However, in good conscience we must suggest you comply with the maximum user limit set by the manufacturer.
The Jump N' Dunk trampoline also comes with some additional features which might not be present with other choices in the same category, such as the hoop to which the trampoline owes its name. This, however, seems to be an afterthought as it is not made of the best material we've ever seen and could prove to be a victim to vigorous children play.


Lastly, while the main hook is definitely the best-in-line price point which makes the Skywalker trampoline brand best value in general, we do have to say that you should not expect the whole thing to last more than a couple of seasons without taking care of it. As with all things that concern children, the vigorous use will leave its mark and you can expect needing to change the mat at the very least after some time. This can also be true especially if you are not abiding to the weight limit. To their credit, Skywalker does offer replacement parts so proper care can take you a long way.


Parting words: The Jump N' Dunk 15 Footer is a trampoline which does a lot right and not a lot wrong, albeit it does have its downsides since, to remain competitive, the Skywalker brand did have to make slight compromises. It's easy to build, but is best built with the help of experienced builders, whether it be YouTube videos or just a skilled friend. It has extremely well thought-out safety measures, but it's weight limit can be a stumbling block for users who have larger families or simply friends coming over. Therefore, the value of the overall product cannot be understated, but the product's sturdiness and compromises can be a thing to think about before buying.


Pros: Ease of assembly (1-2 people in a couple of hours), size, price, safety measures, some additional features

Cons: Not the most durable for several seasons, lacking instructions (YouTube recommended), recommended weight limit

Buy on Amazon


Skywalker Trampolines 10 -Foot Round Trampoline and Enclosure with spring
Our recommendations continue with the same brand, but a smaller trampoline for those that do not need the 15-footer with accessories but are more limited with space.
FEATURES REVIEW

Skywalker keeps the time needed for assembly in line and this particular product is no exception. Similarly to its bigger cousin, it still recommends two people and around two hours to build but can be done in less if you have experience and can be even done yourself if you have the patience. Again, the instructions can be a bit confusing so make sure to either read them in advance or follow a good instructions video on YouTube as you build along to spare yourself any pain in the future or backtracking with the build itself.


As with their 15-footer, the 10-foot round trampoline offers the exact same safety features regarding no openings between the net and the jumping surface and the safety net which is once again away from the padded poles and can be secured with either the dual zippers and latch or both if desired.
The design is basic, but it isn't necessarily a bad thing. Most people just want their trampoline to work and be safe. This is something Skywalker always did well, and the 10-footer isn't any different. It's neat and simple but does pay the price in its external fabric wearing out and losing its color after some time when the trampoline is in sunlight for most of the day.


Once again, the biggest benefit of this trampoline is its value. The price point is affordable and extremely attractive to those who want a clean entry into the world of trampolines. With proper care, this trampoline will last for quite a few seasons but be ready to make a step-up if this is not something you see yourself bothered with.


Parting words: The 10-foot round trampoline checks all the boxes. It's sizeable yet small enough for most yards, it offers everything you want from a trampoline and it has value. Most importantly, Skywalker does not pull punches when it comes to safety. Therefore, as a basic entry, the 10-footer has our vote. However, do not expect much more than this. Larger families may wish for something bigger or more sturdy as nothing can last forever and physical exertion will take its toll on the product.

Pros: Value, safety, good entry point, size fits most yards

Cons: Basic features, external fabric can wear out, will need replacements in future

Buy on Amazon


Merax 14FT 15FT Trampoline with Enclosure Kids Trampoline with Basketball Hoop, Ladder and Backboard Net
Our first non-Skywalker recommendation comes from Merax. Similar to the Jump N' Dunk 15-footer, this trampoline also prides itself on size, safety and additional features, yet offering affordable pricing.

FEATURES REVIEW

First and foremost, if you're looking for clear instructions, we have good news for you. Merax does a significantly better job than Skywalker and, while you can still use YouTube to make sure you do not make any significant mistakes, this is actually the first time we do not feel the need to actively recommend using it while building. Merax even provides the link themselves if you need it (https://youtu.be/rI-uERNoCCk) The build time is decent and in line with other products, spanning to around 2 hours with 2 people.
Merax prides itself on their construction quality and deservedly so, as the steel frame looks and feels sturdy. Coupled with a net which is secured with multiple clips but only one zipper, your children will be safe and sound inside the trampoline. As with other products, there's little worry of getting pinched as all the openings are covered. Merax offers an incredible 5 year warranty on their product so if any issues arise, they'll be there to help.

The recommended weight limit for this entry is 330 lbs which is significantly more than the Skywalker 15-footer, which gives you certain piece of mind when friends come over.


Merax does not shy away from additional features and offers a basketball hoop which is significantly higher quality than the one offered on the Skywalker's Jump N' Dunk 15-footer, a fashionable green color of the exterior material and a ladder which can help your younglings get in and out easier. It's hard to find any downsides to this, although stronger winds can still mess with the hoop and younger kids may still need help even with the ladder.


Parting words: A direct competitor to Skywalker's Jump N' Dunk, the Merax 15-footer offers more features for a competitive price. They're a step ahead of Skywalker with the features such as the better quality hoop and an included ladder, bigger weight limit and better instructions, but do not stray beyond being an upper-entry trampoline for a higher price than its Skywalker counterpart. While this price difference can be a lot to consider, the 5-year guarantee does give merit to Merax.

Pros: warranty, features, safety

Cons: Slightly higher price than what's available elsewhere

Buy on Amazon


Giantex 8FT 10Ft 12Ft 14Ft 15Ft 16Ft Trampoline with Safety Enclosure Net, Spring Pad, Ladder, Combo Bounce Jump Trampoline, Outdoor Trampoline for Kids, Adults
Our second and last non-Skywalker trampoline recommendation comes from Giantex. Giantex is focused on one thing and one thing only – jumping.

FEATURES REVIEW

Unfortunately, it seems Giantex also suffers from the unclear-instruction-manual problem. However, this is not too big of an issue as if you give yourself time (and help yourself with the power of the Internet) it is not insurmountable. One to two people should be able to put the trampoline together in around 2 hours, which is completely in line with other similar products.
Interestingly enough, Giantex is the first on our list who does not separate the safety net from the padded poles, and therefore child safety during energetic play may come in question, but the foam sleeves seem soft enough to make any hit a non-issue. As usual, there are no pinch hazards since the design is gapless with PVC cloth over the spring. Springs, however, are sewn on the jump pad and make it hard to reattach in later years of usage making durability a valid question to ask.
We mentioned Giantex is focused on jumping and therefore has no additional features besides a ladder, but who needs them? The spring is perhaps the best of all mentioned and it serves its purpose well. The elasticity is top notch and perhaps Giantex's best feature. Therefore, if your focus is on clean fun, look no further.


The recommended weight limit is 330 lbs which is enough for a couple of young children at the same time, ensuring fun times for the whole group. Still, we recommend abiding by this limit and not going over it even if it's tested for larger weight limits.


Parting words: Giantex makes their entry focus on jumping and that's completely okay. It's simple and clean with an equally clean message – and that's jump, jump, jump. Coupled with a good 330 lbs weight limit, the trampoline is designed to serve everyone who wants to have fun. This absence of features and the focus on elasticity, however, may make it a bit boring later on, especially if the questionable design of sewing in the springs to the mat makes the trampoline lose the elasticity which is it's biggest strength.

Pros: Elasticity, clean design, safety

Cons: Absence of features, debatable durability over years of use


Buy on Amazon


Skywalker Trampolines - Rectangle Jump-N-Dunk Trampoline with Enclosure

Our last entry is the first non-round trampoline but comes from a familiar manufacturer.

FEATURES REVIEW

Rectangular trampolines are an interesting thing. They're less restrictive in movement and can be a lot easier to set up due to their shape. Therefore, some parents may opt in for this one. The size is 15 feet by 9 feet, which is plenty but may require some getting used to.
The assembly is probably the easiest compared to the rest of the trampolines, as the process is streamlined, but a bit of reading in advance and YouTubing during the assembly would not go amiss.


As with all Skywalker trampolines on our list, the safety standards are the exact same and offer the familiar clips and zippers on the safety net which is put straight on the mat with no openings to prevent any pinch injuries. The poles are padded but away from the safety net to prevent any accidental injuries.
The trampoline weight limit is 250 lbs as per the manufacturer who abides completely by the ASTM guidelines. With the trampoline's size, this is enough for 2 to 3 younger children simultaneously.


There is a possibility to buy the trampoline with a hoop and foam ball included as well, but this is as far as the extra features go.


The bounce is excellent, and the elasticity really holds up no matter how many people are on it at the same time. With proper care the trampoline should last, but the manufacturer offers 3-year warranty for the steel frame as well as 1-year warranty for the other parts.


Parting words: The only rectangular trampoline on the list offers everything at once but it's price point may raise eyebrows. It's more expensive than the round ones, but offers excellent elasticity with more people on it than other trampolines do. Excellent assembly time is par for the course. However, the sheer size of the trampoline and it's price point coupled with a weight limit that's still below what competitors offer make it a more of a planned purchase since you would not want to be overly restricted after a short while of usage.

Pros: Size, ease of assembly, elasticity

Cons: Price point, small weight limit for size

Buy on Amazon