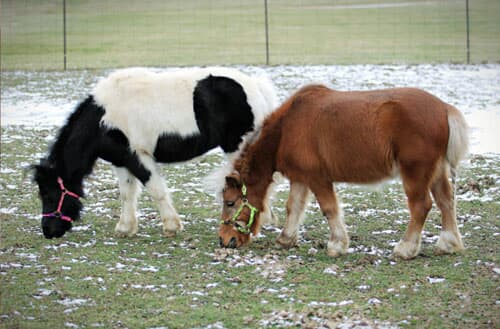 Miniature horses are amazing animals, very smart, and easy to train. They are convenient pets who like to be lead around on walks and their friendly attitude makes them a perfect pet. Have you ever wonder about getting one for your backyard? Although horses have miniature in their name, they still need a lot of attention and care.

Many people confuse mini horses with ponies, but there is a huge difference between them. A pony is more than 38'' tall while miniature horses are among 34'' - 38''. Miniature horses, in fact, have the same proportion as regular horses with lengthy legs and slim bodies but of course in a smaller edition. Adult humans shouldn't try to ride them while kids under age 10 could be capable to ride with a saddle.


Where should I keep my miniature horse?
In most states, you can keep a miniature horse in your backyard as long as you have a 1/3 to 1/4 acre area for them to run around. We suggest you to check your local ordinances and zoning. Around 1/4 acre will be sure enough because you also can take your miniature horse for walks to get them even more exercise.


Things you should know
Miniature horses also can be used as helpers for people with disabilities because of their accessibility. Today they are in use to help blind people manage their surroundings or to provide any kind of emotional support. These miniature horses who work with people usually are used to live within a house among people but if you have him as a pet outside, you should build a barn in your yard. There are many ways to do it or you can simply order a pre-fabricated barn.

When we talk about food for your mini horse, he will eat grass in your backyard, how many depends on his body weight. Besides that, you can give him further sources of protein to retain your horse healthy.






You should keep in mind medical costs as well. They won't be too big and it will include hoof care, dental care, vaccinations, and some ordinary check-ups. Don't forget to spruce up your miniature horse by brushing his coat, he will be grateful for it and develop a level of trust.

If it's possible try to adopt a miniature horse from a rescue farm instead of buying. If you do that online make sure it is an animal coming from a rescue facility or a private breeder and find out the true animal backstory. If you have conditions for this kind of animal it could be a great addition to you and your family.